Stay one step ahead when protecting your data
It is important to think about all the alternatives for protecting your critical environments against data loss, technical issues and service interruptions. The Zerto platform, managed by OVHcloud, ensures resilience for your data in a datacentre of your choice.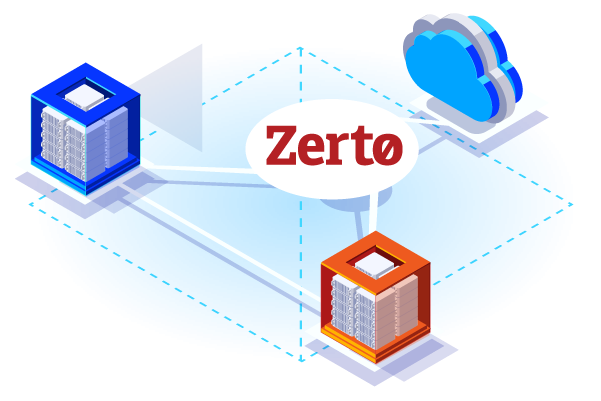 Easier implementation
Get full access to the Zerto Virtual Manager (ZVM) via your existing OVHcloud vSphere accounts. Using the Zerto ZVM API, you can improve your disaster recovery plan (DRP) after an incident. With the RESTful API, you can automate the many tasks that are required for managing recovery after an incident, without having to use the Zerto user interface.
Continuous syncing
Virtual machines are copied at an average speed of 90 MB/s*. The OVHcloud network is 10 times faster than what is standard on the market, which mean your data can be copied in almost real time.
*Average speed recorded over one week of syncing between our Roubaix and Strasbourg datacentres. This information is not contractual.
Secure data transfer
Your data is synced via the private fibre optic network between the OVHcloud datacentres. Your data is transferred between remote sites via a VPN, so all data transfers are secure.
Want more information?
Request a free callback from an OVHcloud advisor
Protect your critical data with the Zerto platform
Zerto DRP (Disaster Recovery Plan)
Zerto is for companies seeking to protect their IT systems against technical faults, data loss, and service interruptions. Whether you have an on-premises environment that you manage, or a VMware on OVHcloud cluster in one of our datacentres, you can protect your data using our solution.
Disaster recovery
Applications hosted on a primary site are migrated to the secondary recovery site, changing their location as a result.
There are multiple Disaster Recovery Plan (DRP) scenarios, as the solution takes into account infrastructures located in an on-premises or OVHcloud datacentre.
Quickly configure Zerto DRP on your OVHcloud cluster
You can set up your Zerto solution in just a few steps. First, deploy your secondary VMware on OVHcloud cluster in a different datacentre to your main one. Next, enable the DRP solution for the virtual machines concerned, via your Zerto Virtual Manager secure interface. In one click, migrate your data to the new infrastructure. It is now protected and available in your secondary infrastructure.
Best practices for your disaster recovery plan
When you set up your monitoring solution, the monitoring tool must be independent from the infrastructure it is monitoring, and alerts should be sent via a minimum of two contact channels (e.g. email and SMS).
To organise a disaster recovery plan in your company, a structured procedure should be established. It should detail the actions to take, the employees who are familiar with the procedure should be identified, and an escalation system should be established to optimise the way in which incidents are managed. We recommend carrying out a migration test once a month.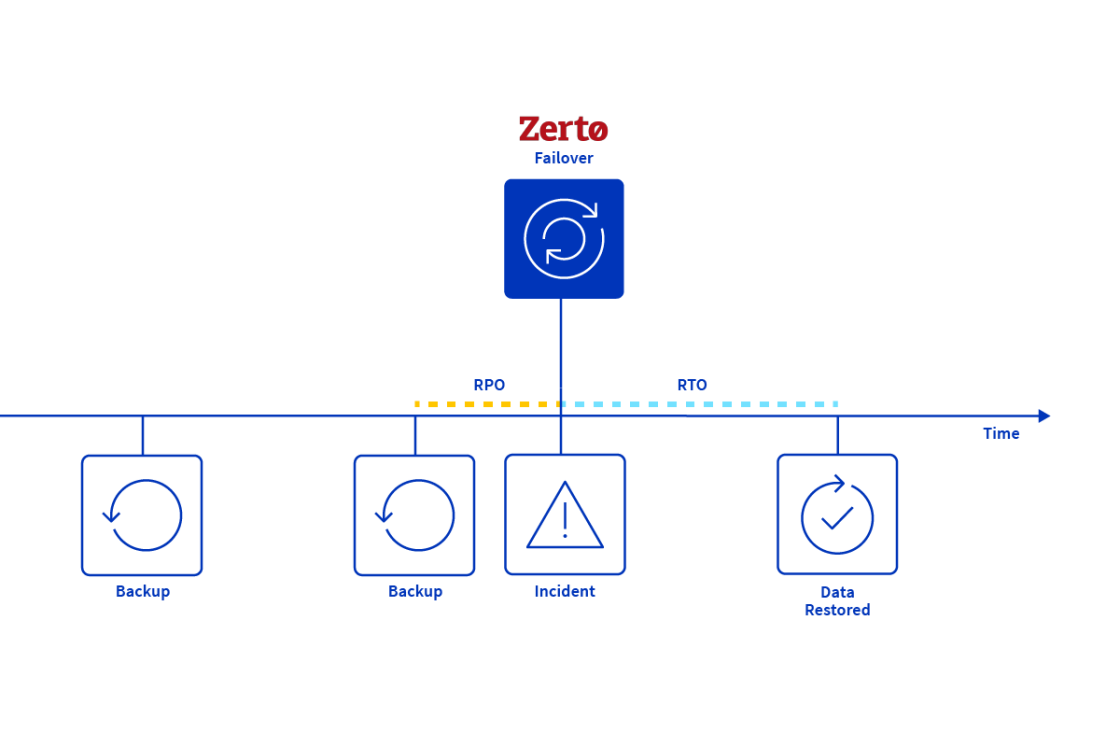 Optimised Recovery Point Objectives and Recovery Time Objectives
With Zerto and continuous high-bandwidth syncing, the risk of data loss before the switch is absolutely minimal. The recovery time objective (RTO) is optimised before the virtual machines are automatically switched onto the backup infrastructure.