We hold the SAP in Cloud and Infrastructure Operations regional certification for our European datacentres, and we are also compliant with SAP HANA TDI (Tailored Datacenter Integration) for our Bare Metal High Grade dedicated servers. This means that with our services, you can get secure, high-performance hosting for your SAP environments in a sovereign cloud.

Explore our SAP HANA on Bare Metal server range
SAP certification and compliance
The EMEA SAP in Cloud and Infrastructure Operations certification is a mark of trust for our European datacentres in terms of organisation, operations and maintenance. It also demonstrates proof of our ability to host critical data in healthy, secure environments.
SAP HANA TDI (Tailored Datacenter Integration) compliance affirms the high performance delivered by our Bare Metal High Grade servers. You can use these servers to deploy your SAP HANA database, and host your OLAP or OLTP workloads.
These two elements prove OVHcloud's ability to host the most critical SAP environments.
Our servers in detail
Our Bare Metal High Grade servers are SAP HANA TDI compliant, and equipped with Dual Intel Xeon Gold processors. They offer a range of memory options (up to 1.5TB), as well as hardRAID SAS SSD storage.
You also get guaranteed private and public bandwidth, and up to 50Gbit/s private network speed to ensure optimal communication between your SAP infrastructures.
With all the technical features of our High Grade servers (including the availability of the SUSE Linux Enterprise Server OS (SLES) for SAP applications), you can set up your SAP HANA database and deploy your BWoH, BW4H, SoH and S4H scenarios seamlessly.
Why opt for SAP on OVHcloud?
OVHcloud is unique as a cloud provider, as it guarantees confidentiality for your data in its network of European datacentres. It also ensures that your data remains resilient in the event of a production incident.
By backing up and/or replicating your SAP data in the cloud, it is viable, secure, and available wherever and whenever you need it.
SAP HANA TDI compliant Bare Metal servers meet a range of use cases, such as new production requirements, expansion of existing resources, or implementation of a disaster recovery plan (DRP).
Which servers should I choose?
Our SAP HANA TDI compliant Bare Metal server offerings are simple and clearly identified.
Select one of our 3 SAP compatible Dual Intel Xeon Gold High Grade servers below (HGR-SAP-1/2/3).
The billing is transparent and predictable — there are no charges for bandwidth, and no variable fees. Everything has a fixed, controlled price — so you won't find any nasty surprises in your bills.
Our recommended SAP HANA on Bare Metal servers
HGR-SAP-1
From
US$1,088.40
ex. GST/month
Our first High Grade, SAP HANA TDI-compliant server.
HGR-SAP-2
From
US$1,206.70
ex. GST/month
This SAP HANA TDI-compliant Dual Intel Xeon Gold server is equipped with more cores and memory.
HGR-SAP-3
From
US$1,325.01
ex. GST/month
This server offers the ultimate performance in our SAP HANA TDI-compliant High Grade range.
The perfect solution for databases that require the most processing.
New SAP environment - Greenfield
Deploy your SAP test and production environments, and host them on a secure, private infrastructure.
Migrating to the cloud - Brownfield
Migrate your SAP Legacy environments to SAP S/4HANA in the cloud.
Disaster Recovery Plan (DRP) and high availability
Our certified European datacentres secure your SAP architecture with their high-performance private connection.
Replatforming
Migrate your SAP applications from your on-premises infrastructures to the cloud.
SAP on OVHcloud - Architecture example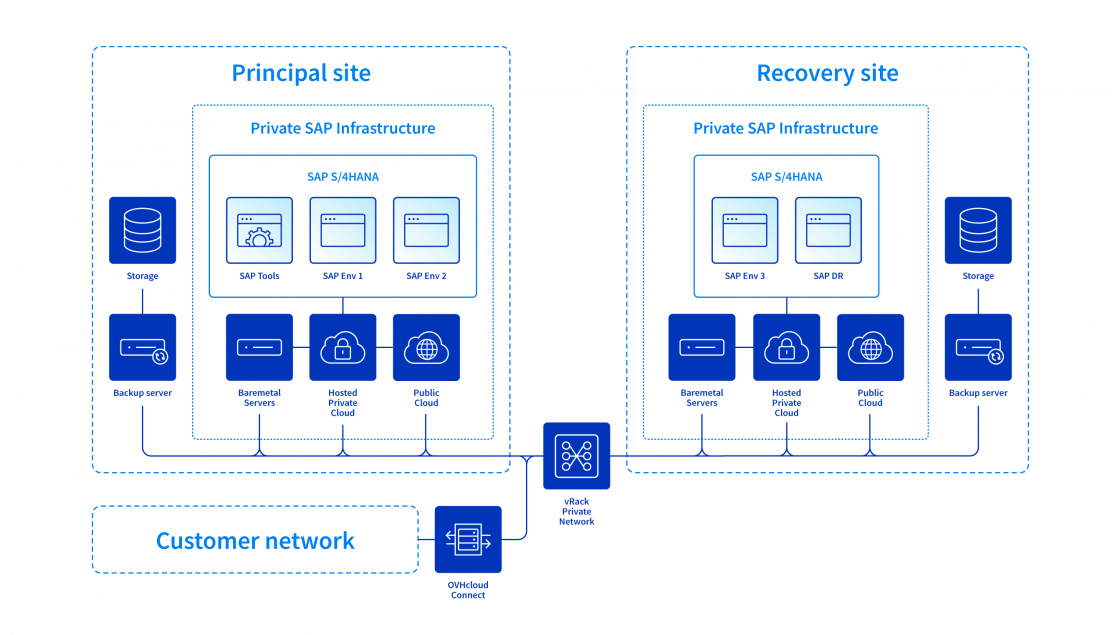 Services adapted to your business needs and challenges
Custom analysis
Ask our experts for a custom analysis of your SAP project.
What is SAP HANA?

SAP HANA (High-Performance Analytic Appliance) is a relational database system designed to manage data through enterprise resource planning (ERP) software. It runs on Linux, and can be deployed on-premises or in the cloud. SAP HANA stores data in-memory (on RAM instead of hard drives). Companies can access their data 3,600 times faster, and accelerate their analytics capacity. This means they get greater efficiency and higher growth. Other benefits of SAP HANA:

Processing and storage of high volumes of data, delivering real-time analysis.
Simplified database management with all data consolidated in one place.
No need to maintain log databases.
The ability to integrate with machine learning and artificial intelligence applications.
A private, secure platform that meets compliance and regulatory requirements.
What is the difference between SAP and SAP HANA?

SAP (System Analysis Program Development) is a leading provider of enterprise resource planning (ERP) packages and other business software. Founded in Germany in 1972, SAP is an international company with more than 100,000 employees. SAP software centralises data, so its full potential can be leveraged by multiple business units. It also enables companies to perform operations more efficiently. SAP HANA is a relational database system created by SAP. It quickly processes the data within ERP software. Today, all SAP applications are developed and optimised for SAP HANA.
What is SAP HANA TDI?

With the SAP HANA TDI (Tailored Datacenter Integration) approach, users can deploy a SAP HANA database across existing datacentre infrastructures. This way, they can control every stage of its setup and maintenance. It offers more flexibility than the legacy 'appliance' approach, where SAP HANA is delivered as a pre-configured solution with dedicated hardware. To facilitate integration, TDI also enables users to leverage current hardware. This reduces the cost and complexity of deploying SAP HANA as a result.
Is SAP HANA an ERP?

SAP HANA is a database platform designed to support ERP software. With its high data processing speed, users can extract more value from the data contained in their ERP. ERP (Enterprise Resource Planning) software supports day-to-day operations such as accounting, project management, human resources, marketing, and customer relationship management. It helps companies manage and streamline processes, while facilitating cross-team collaboration. Many solutions also offer automation. ERP software includes SAP ERP, Oracle NetSuite, Microsoft Dynamics, and Sage.