Transfer your domain name to OVHcloud
Opt for Europe's leading web hosting provider
Centralised management of all your domain names
No interruption to your website and emails
Competitive prices guaranteed, even beyond your first year!
#1
a European player in hosting and domain names for more than 20 years.
1.6
million satisfied customers, 5 million registered domain names, 18 million hosted websites.
140
countries in which our customers are present.
By transferring your domain name to OVHcloud, both your data and your customers' data is protected, and you retain full control over it. We do everything we can to ensure optimal security.
For each domain name transferred, you also get a wide range of options included, so you can quickly develop your online strategy.
Finally, you choose a company that is deeply committed to sustainable development.
Services included with each domain name transferred
Simplified DNS management
Configure the DNS zone for your domains and sub-domains, then point them to your website and email server.
Protection against unauthorised domain transfer actions
Secure your domain name with an authentication code, and avoid unauthorised transfer attempts.
A secure domain protected against theft
Protection against attacks targeting the DNS server with the DNSSEC option included by default.
Web redirection management
Choose the redirection target for your domains and sub-domains to an OVHcloud or third-party server.
The stages of a domain name transfer
Unblock your domain name and request the transfer code. You can request the unblock and transfer code from your current registrar.
Search for your domain name on ovhcloud.com, then click "Transfer". Finally, enter your transfer code.
All done! Your domain name has been transferred. You can now use the range of services included with it.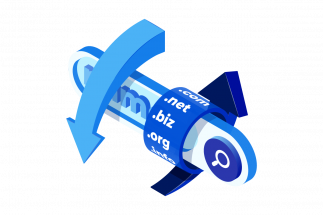 Can I transfer a domain name to OVHcloud?

Yes – you can transfer a domain name managed by another registrar to OVHcloud at any time, as long as the domain name is not expired or locked.
How long does it take to transfer a domain name?

The average domain transfer time is five days. The domain name transfer process can reach a maximum of ten days, depending on how long the registrars take to respond.
Can I speed up the transfer process?

You can speed up the transfer process by clicking on the link in the transfer procedure email. To do this, please enter your email address in WHOIS. You can also do this from your domain name management platform, if your current domain name registrar provides the option to do so. The procedure for transferring a .com domain name can be done in a few minutes, rather than the default five days.
How do I transfer my domain name to OVHcloud?

Need help transferring your domain name to OVHcloud? We offer a detailed step-by-step guide.
What is a domain transfer code?

The transfer code, also known as an authentication code or auth-code, is generated by the registrar. This will certify that you are the holder of the domain name you wish to transfer. It is issued by your domain name's current service provider, using their own method: by direct request, or via the OVHcloud Control Panel.
Why can I not transfer my domain name?

In some cases, the domain may still be blocked by the old registrar. You can check this information in the domain name's WHOIS page. Please contact your current domain name registrar so that they can unblock it. If the authentication code (or auth-code) does not work, ask them to provide you with a new one. Finally, please note that a domain name cannot be transferred if it was last registered or transferred less than 60 days ago.
How do I get my authentication code?

The procedure for obtaining this code depends on the registrar. However, there are two ways to get it: by submitting the request directly to the registrar (by email or customer support), or from your domain name management platform.
How do I find a domain name owner?

To find out who owns a domain name, you will need to use the WHOIS service (enter "whois" in your search engine). Once you are on the website, enter the domain name you are interested in. You will then find all of the information you need on its owner.
Can all extensions be transferred?

Yes, all extensions managed by OVHcloud can be transferred.
Why buy a domain name?

Reserving a domain name is an essential part of building your website. To ensure that web users can access your website directly via a browser or search engine, your website must have a searchable internet address. To be effective, it should be simple and memorable. You can reserve as many domain names as you want, and easily link them to your web hosting plan using DNS (Domain Name System) redirections.
How do I register a domain name?

To register a domain name, you will need to ensure that it has not already been reserved by somebody else. To do this, go to our domain name registration service, then enter the domain name and extension you want. If it is available, simply place an order and register your domain name under your or your company's name. Domain registration is easy with OVHcloud, as is checking available domains – and we take care of the domain management.
How do I renew a domain name?
How do I know if a domain name is available?

At first glance, a domain name that does not redirect to any website may seem available, but it could still be reserved by someone. You can check whether it is available by searching it on our WHOIS interface. If it is not available, you can choose from a selection of several hundred other extensions.

The different statuses are listed below:

Domain name available for registration: you can reserve it.
Domain name not available for registration: it has been registered, which means somebody else has already reserved it.
Domain name transferable: you can transfer it from your current domain name registrar to OVHcloud.

When you decide on a domain name, you can also check its availability with the Intellectual Property Office (IPO), to see whether it has been registered as a trademark. If it has been registered, you legally cannot use it. In accordance with the regulations in force, you also have the possibility to protect your name as a domain name when registering your brand as a trademark.
Find a domain name for your business
Deciding on a future domain name can be a tricky task. Several hundred million domain names are already reserved, and used worldwide — so you need to consider whether the domain name you choose is available, and how relevant it is to your project. If the domain you want already has a domain owner, you will need to find an alternative internet domain so that your web users can find you. Otherwise, you can find out about domain ownership details via a domain WHOIS search, then get in touch with the current owner to check whether you can buy a domain name off them. You can find more details on this below, in the 'domain name market' section below. Generally, a generic domain name with competitive keywords will already be reserved, or it may be available on the aftermarket. When you register your brand, make sure that your trade name or company name is available to reserve as a domain name. It is usually the easiest name to assign as a web address, and one that your visitors will easily remember. Keep in mind that your domain name should be memorable for visitors and customers —it must be short, and easy to understand. You can reserve several domain names and subdomains to suit your web-presence, and redirect to the server your website is hosted on.
The domain name market
Of the hundreds of millions of domain names that are already in circulation, some are very popular. There is an aftermarket for the purchase of domain names put up for sale by their current holders. Generic domains can sell at very high prices, depending on the sector they are linked to. The price is set by the seller, and generally takes the commercial potential of this domain name into account. One of the most popular SEO strategies is to buy back a domain name, which enables the new holder to benefit from its longevity.